Good Morning! Our Elementary Computer Lab services K-5 students daily with three classes per grade level. To ensure our labs are ready for each class, we sanitize between groups. As you can imagine, we use quite a bit of cleaning supplies. Please consider donating hand sanitizer and Clorox wipes to the lab. We are working hard to help students gain skills while still keeping them safe. Any donation is appreciated! Thank you!!
It's time to start running again!!! If your K-5 child is interested in participating in the FHSA Rising Runner club (formally 100 Mile Club) please click the link below for more information and registration! Reach out to Coach Perkins with any questions!
https://forms.gle/tzZcSBdy4Fi4anmHA
Good evening, FHSA middle schoolers! You can still get tickets to the Green and Gold Block Party - just look for Mrs. Shelton at a table outside the gym tomorrow or Thursday during lunch! Tickets are $5 in advance - NO TICKETS WILL BE SOLD AT THE GATE. The block party is set for 6-8 p.m. Friday, Sept. 17!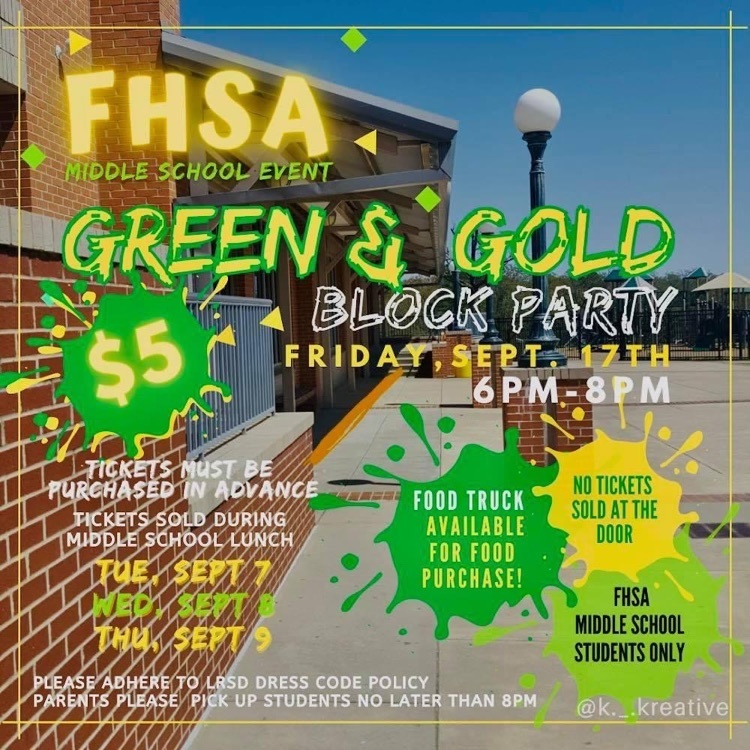 FHSA Treble Choir Auditions will be held on Thursday, Sept. 30 at 4PM in the FHSA Cafeteria. These auditions are open to FHSA 3rd - 5th grade students who desire to sing and perform. Information and details are located in Schoology in the Music course. Here is the link to register.
https://forms.gle/rjvd6ca7MthhPnPV9
Reminder: today is the last day for Student Council applications. If interested, please make sure the completed application is turned in to Mr. Davidson, Room 307.
Middle schoolers, don't forget to bring $5 to school tomorrow! Tickets to the Middle School Green and Gold Block Party (6-8 pm on Sept. 17) will be sold during lunches tomorrow, Wednesday and Thursday!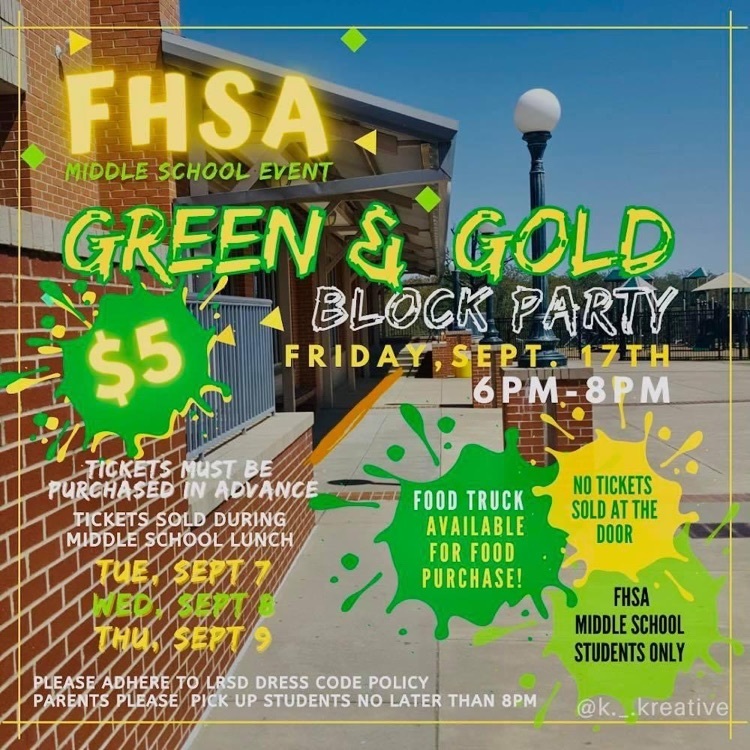 Thank you for a great first weeks of school. We are working to learn routines and procedures. Here are a few reminders: •Students must arrive before 7:40 a.m. Students that are consistently tardy, must schedule a meeting with Ms. Cooper. The back parking lot is not a drop off area and is extremely unsafe in the morning. All parents must drop off students in the front of the school. •Breakfast starts at 7:10 a.m. K-5 students must report to their classrooms by 7:30 if they would like to eat breakfast, middle school students should report to the cafeteria. Breakfast will not be served after 7:35 a.m. •Parents please remember our forgotten item policy. ONLY essential drop off items can be received during your child's lunch. Essential items include: medication, house keys, or glasses. We will no longer accept chrome books during the day. Dropping off lunch is prohibited, due to safety precautions with COVID-19. All students can eat in the lunch room at no charge. •All parents are encouraged to use the car line during dismissal. To ensure your child's safety, parents will not be allowed to walk to get students during dismissal. Parents please stay in your car or at the top of the hill. Parents please communicate with your children about how they get home daily. All changes must be made through the front office by 12:00 p.m. •Checkouts are not allowed after 2:00 p.m. No exceptions.


SIGN UP NOW
https://www.therep.org/charlie-brown-christmas-casting-notice/?utm_medium=email&utm_source=sharpspring&sslid=MzcwMTA2MbYwsDAwBgA&sseid=MzIyNzc0NzM2MgYA&jobid=3cdbe664-28a8-4e74-99dc-b71faa343ba3
Auditions are next week! Hear from the director. Anna Kimmell, director of A Charlie Brown Christmas and former education director at The Rep, is here to tell you a bit about upcoming auditions. We can't wait to have Anna back in town and to meet all of our community's talented young artists. Friends and families of The Rep, We are excited to announce the Little Rock auditions of our upcoming holiday production of A Charlie Brown Christmas. The Production will be directed by Anna Kimmell. A Charlie Brown Christmas Casting Notice The Arkansas Repertory Theatre is excited to announce the Little Rock auditions of its upcoming holiday production of A Charlie Brown Christmas. The production is an adaptation of the 1965 television special based on the comic strip Peanuts by Charles M. Schulz. Seeking a diverse company of young actors and singers ages 12+ for the following roles. All cast, production team, and Arkansas Rep staff will be fully vaccinated against COVID-19. Proof of vaccination will be required upon being cast. CHARLIE BROWN SNOOPY LUCY VAN PELT LINUS VAN PELT PIG PEN FRIEDA SCHROEDER VIOLET GRAY SALLY BROWN PATTY SHERMY Auditions will be held on the evenings of Tuesday, September 7 and Wednesday, September 8, with callbacks on Thursday, September 9, all at the Arkansas Repertory Theatre's downtown home at 601 Main Street, Little Rock, Arkansas 72201. Initial auditions will be scheduled in 5-minute slots between 5:00 and 9:00 PM. Actors will be required to bring a headshot and resume and prepare a 1-minute monologue of your choice and 16 bars of a song. A piano accompanist will be provided. First rehearsal: November 9, 2021 with the possibility of some virtual and/or music rehearsal prior to that date. Note: rehearsal dates include Thanksgiving weekend Opening: December 3, 2021 Closing: December 23, 2021 The production is a professional opportunity featuring a weekly stipend. Performances will have a non-traditional schedule, including Fridays, Saturdays, and Sundays, as well as performances on Monday, December 20 through Thursday, December 23. Saturdays and Sundays will have multiple performances. This is a one-act show, approximately 30-45 minutes long. For more information about the production or auditions, and to schedule an audition appointment, visit
www.TheRep.org/charlie-brown-christmas-casting-notice/
If you have questions about auditions, please email
casting@therep.org
. NO PHONE CALLS PLEASE. Information about auditions for the remaining 2021/22 productions will be announced at a later date. Felicia Dinwiddie Company Manager Arkansas Repertory Theatre
www.TheRep.org
601 Main Street • Little Rock, AR 72201 • United States • Click here to unsubscribe. View this email in your browser
Good afternoon parents, we will be having our last 7th and 8th grade boys basketball tryouts on Saturday September 11th from 9:00 am-10:30am.
Our first FHSA 3rd Thursday Spirit Night at Slim Chickens off Markham is happening next Thursday - Sept. 16! Let us know you're coming on the event page in the comments below! 15% of the proceeds from in-person orders will go to us when we mention Forest Heights. We have to make a certain amount for the give back to kick in, so we need everyone to show up for us! And don't forget to enter our drawing for the $100 gift card from Bass Pro Shop by posting your pic with our hashtag!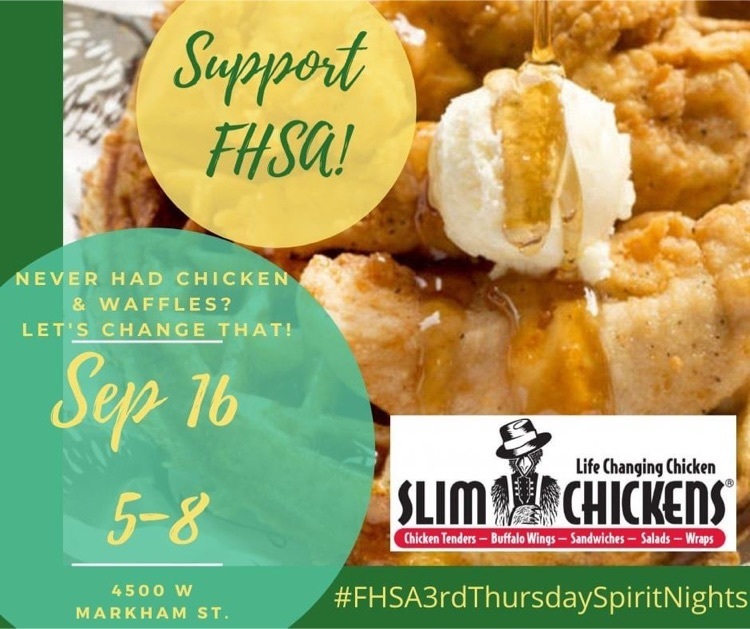 The notes from the K-5 Music Parent meeting held Mon. Aug 30 are available on the "Materials" page of each Schoology music course. Please contact me for questions or concerns at my district email:
satia.spencer@lrsd.org
Our PTSA works hard to support families, students, teachers and staff and we would very much appreciate your supporting us. Get your PTSA memberships or make a direct donation in our online store!
https://fhsa-ptsa.square.site/
6-8 Green & Gold Block Party, Fri., 9/17, 6-8 PM $5 Ticket must be purchased in advance. Tickets on sale during lunch 9/7-9/9. For more information contact the FHSA PTSA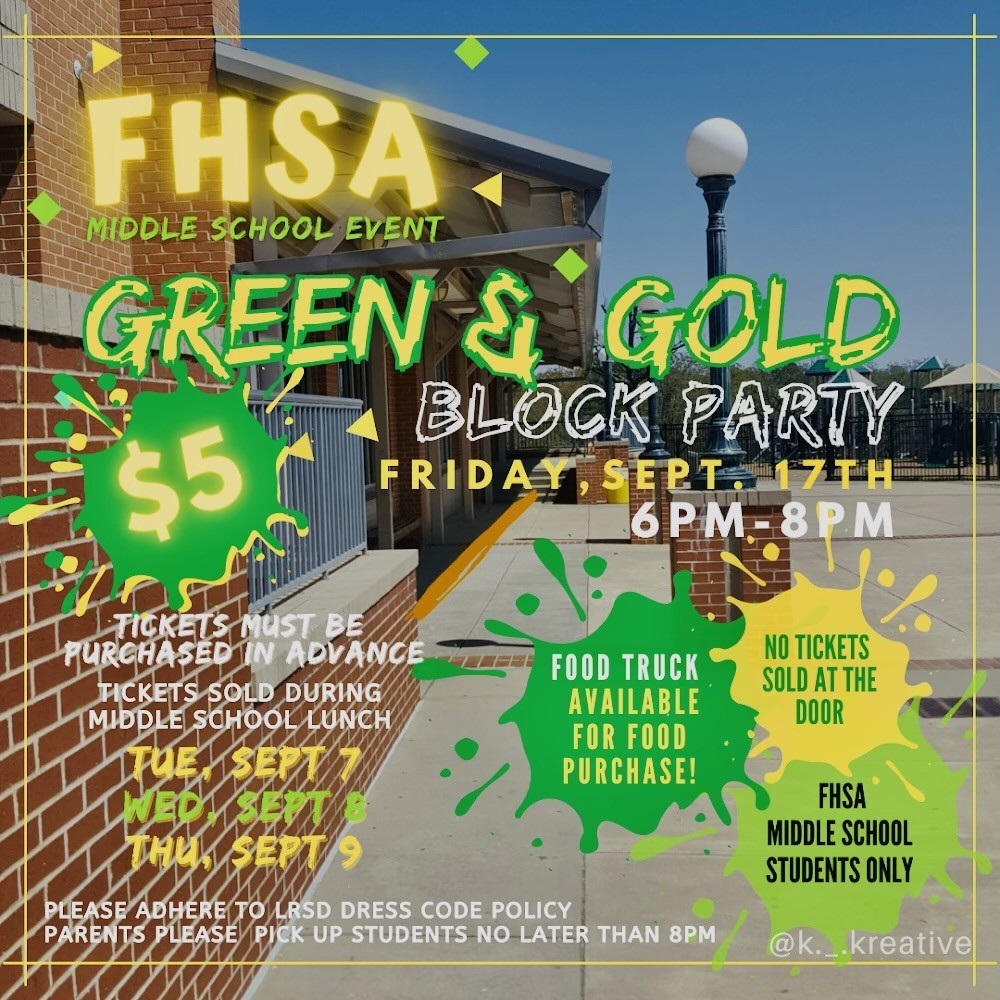 Good Morning Parents! Student drop off begins at 7:15. Students are considered tardy if they arrive after 7:35. Elementary students must have a parent to sign them in if they are tardy. Thank you for helping us to ensure students are in classes and ready to learn on time!:) #GoEagles!
Questions about the free, after-school 21st Century program starting in mid-Sept.? Tune into tonight's live Zoom meeting at 7pm. If you are unable to attend tonight, do not worry. The meeting will be recorded and uploaded for later viewing or another meeting will be scheduled. Information on the program will be provided during this informational meeting: Informational Zoom Meeting 8/31/21 @ 7pm.
https://us02web.zoom.us/j/6600737667?pwd=SE0wVWVDZ3pRUHF2Wkt6Z3BXR2Nndz09
Meeting ID: 660 073 7667 Passcode: Warriors
Applications to join FHSA Student Council are now available, open to any 5th, 6th, 7th, or 8th grade student. Students may pick these up outside Mr. Davidson's class (Room 307) or from their social studies teacher. The deadline to turn these in is TUESDAY, September 7th.
Good Day Parents, today's varsity football game against Cloverdale has been moved to Southwest High School. The game will begin at 5:30pm.