Attention spirited Eagles🦅! Still interested? 21-22 FHSA MS Spirit Team tryouts are rescheduled for Saturday, April 24th at 9:00 a.m. in the FHSA gym. To apply, go to: >
https://www.forestheightsstem.com/
>Quicklinks >Documents >Athletics/Cheer/Spirit Teams >Middle School Cheer & Dance >2021- 2022 FHSA Spirit Team Interest Mandatory Parent Meeting April 7 2021 Deadline for application and all required documents is at 12:00 p.m. on Thursday, April 22nd. Contact: Coach Jackson at 447-2798 or
Charlotte.Jackson@lrsd.org
Do you have a special talent you're ready to show off to the FHSA community? Submit an audition video by April 19 so you can be considered!
https://tinyurl.com/FHSATalent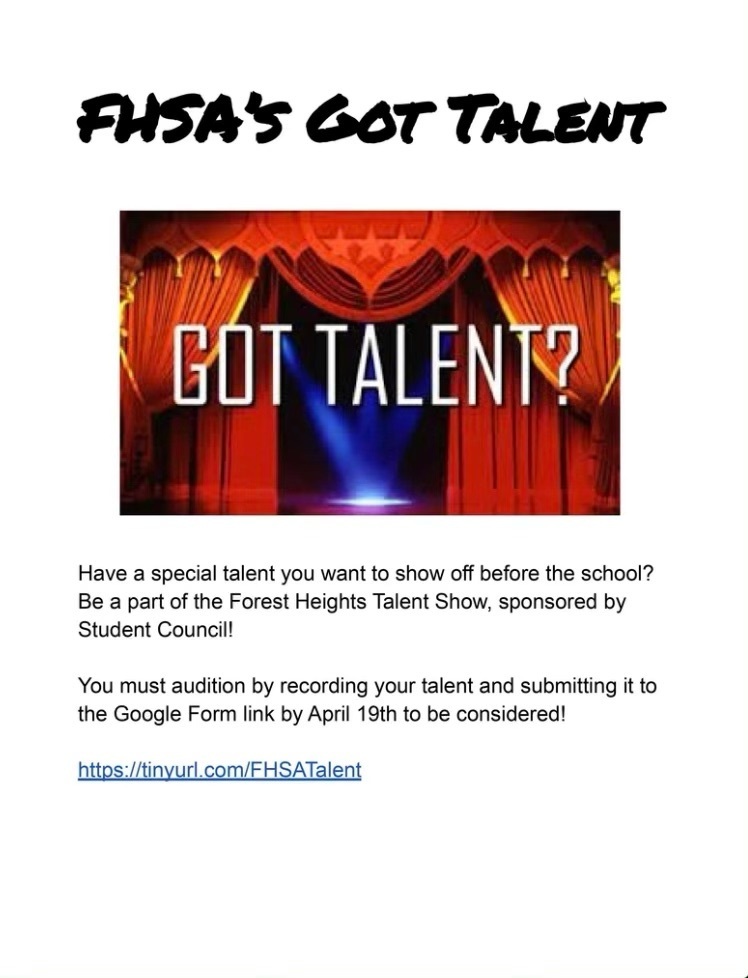 Internet Update: we are still without internet access at school. All summer school deadlines will be extended. Thank you for your patience. 🦅

Good Morning Eagle Family! 🦅 Currently the internet is down in our district. We will send an update once the internet has been restored at school.

Soaring High Shirt Order Update: If you have purchased a Soaring High shirt, I wanted to give you an update. The paperwork to get the order approved took longer than expected, but the order has been submitted to the shirt company. The company has put us on the printing list and the shirts will be printed April 28. I apologize for it taking so long to get them back to you. Mrs. Carlock (our bookkeeper) and I have been working diligently to get your shirts to you. If you have any questions, please contact Mr. Fondren at
daniel.fondren@lrsd.org

The LRSD ESOL Department will host a Drive-thru Spring Jamboree! We hope to see you there!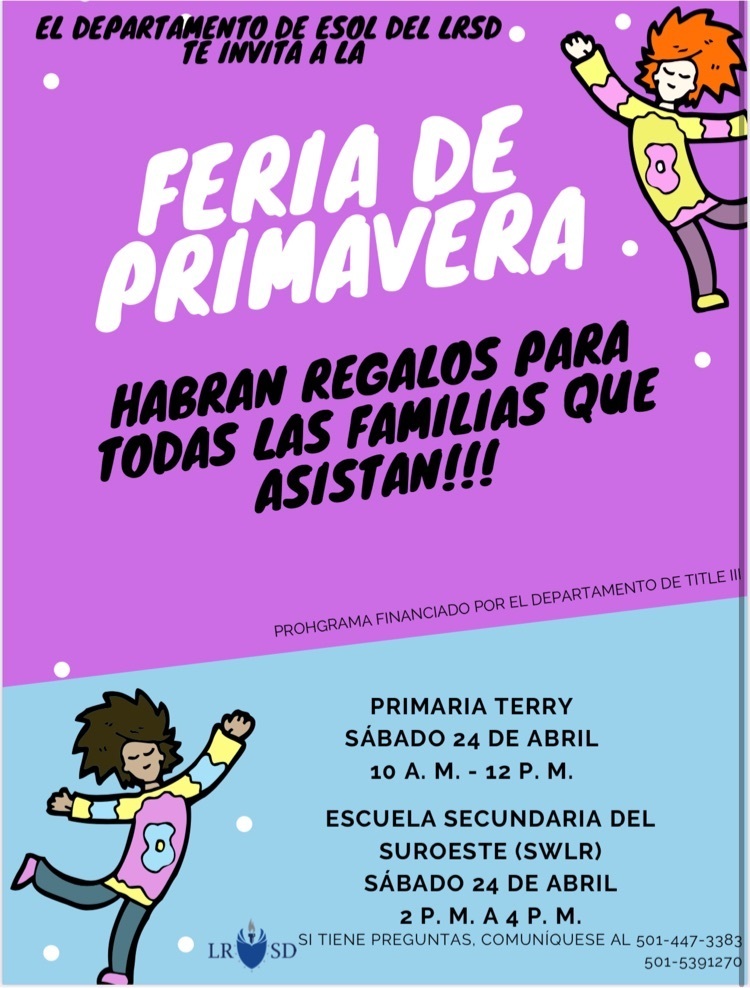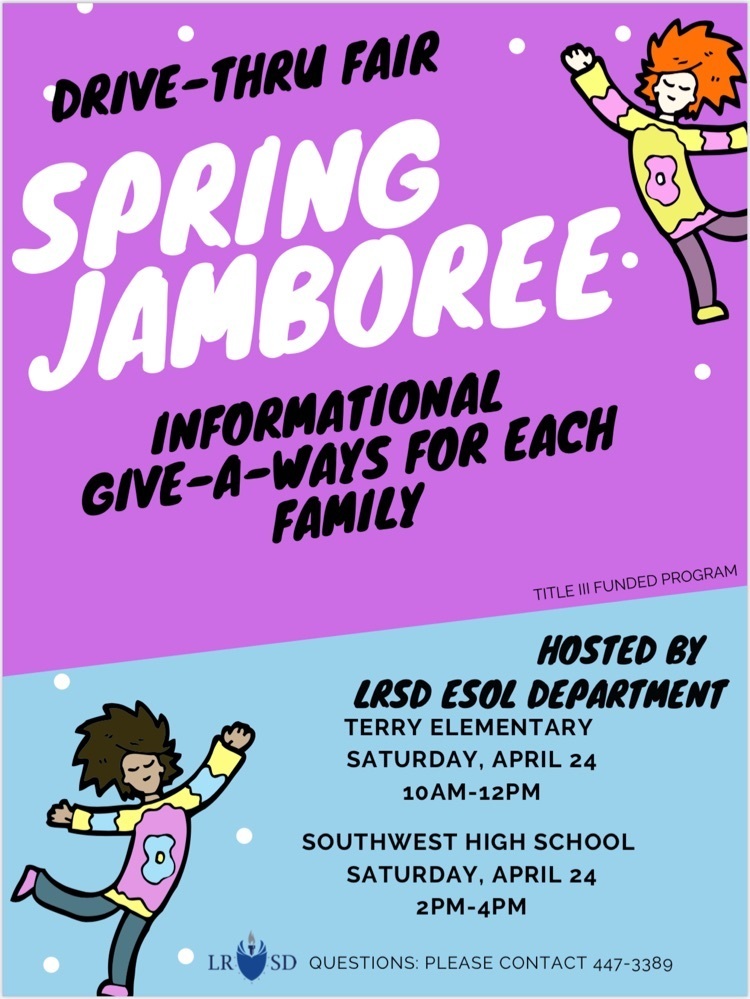 Good evening! To access information and links regarding the 21-22 FHSA MS Spirit Team, go to: >
https://www.forestheightsstem.com/
(scroll to the bottom of the page) >Quicklinks >Documents >Athletics/Cheer/Spirit Teams >Middle School Cheer & Dance >2021- 2022 FHSA Spirit Team Interest Mandatory Parent Meeting April 7, 2021

In celebration of the end of National Library Week, we are kicking off a Bookmark Design Contest and Book Cover Reading Challenge. Visit
www.fhsalmc.blogspot.com
to find out how to access these challenges on Schoology.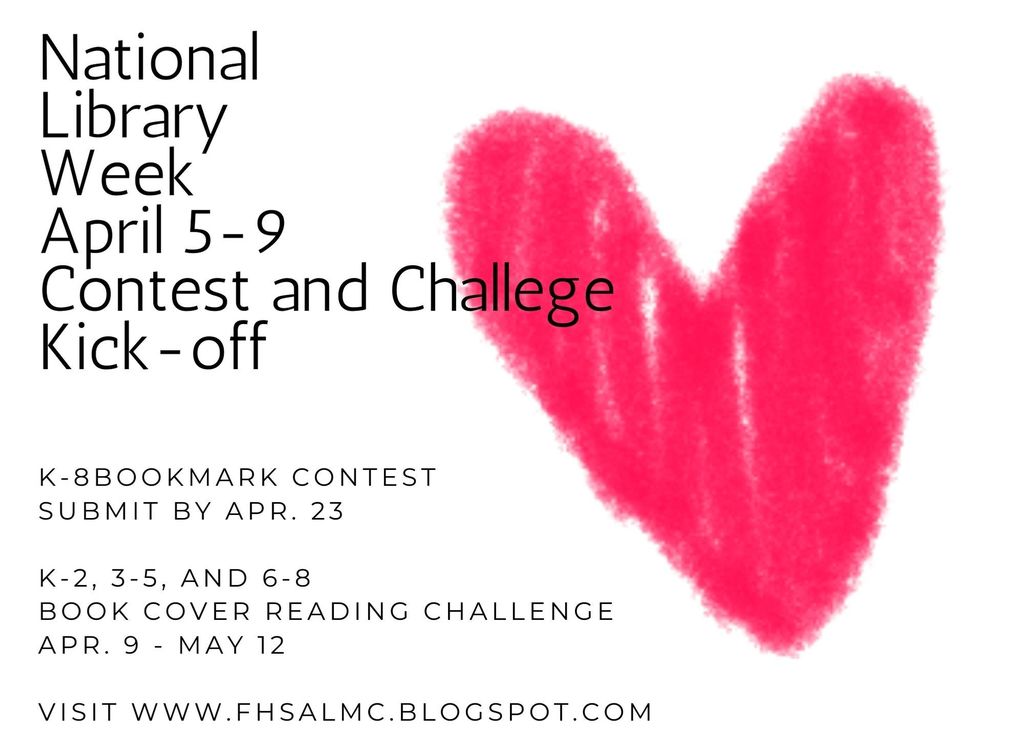 Good Afternoon FHSA Families! During this time, FHSA is not accepting clothing or shoe donations. We thank you for your generosity!
Hello, Forest Heights family! Does your student have a talent they would like to show off before the school? Be part of the FHSA Virtual Talent Show, sponsored by Student Council! Open to all K-8 virtual and in-person students, students must submit a video recording of their audition by Monday, April 19th to the link below to be considered. (Students may have to login w/Google to access the form.) Audition link:
https://tinyurl.com/FHSATalent
Have any questions? Email Mr. Davidson at
Jeffrey.Davidson@lrsd.org
.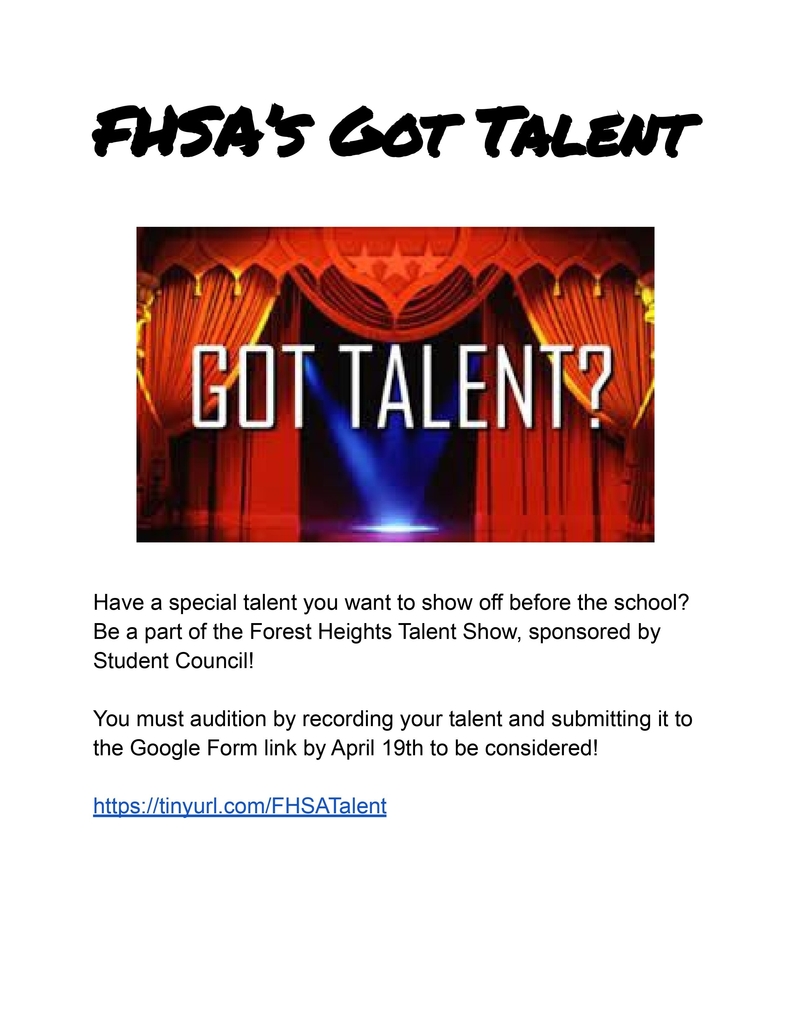 FHSA 3rd Nine Weeks Virtual Assembly
Teachers love building robots too!! Thanks to UALR Cyber Gym @fhstemacadptsa @lrsd @ualrcybergym @amybcoop1 @michaelpoore1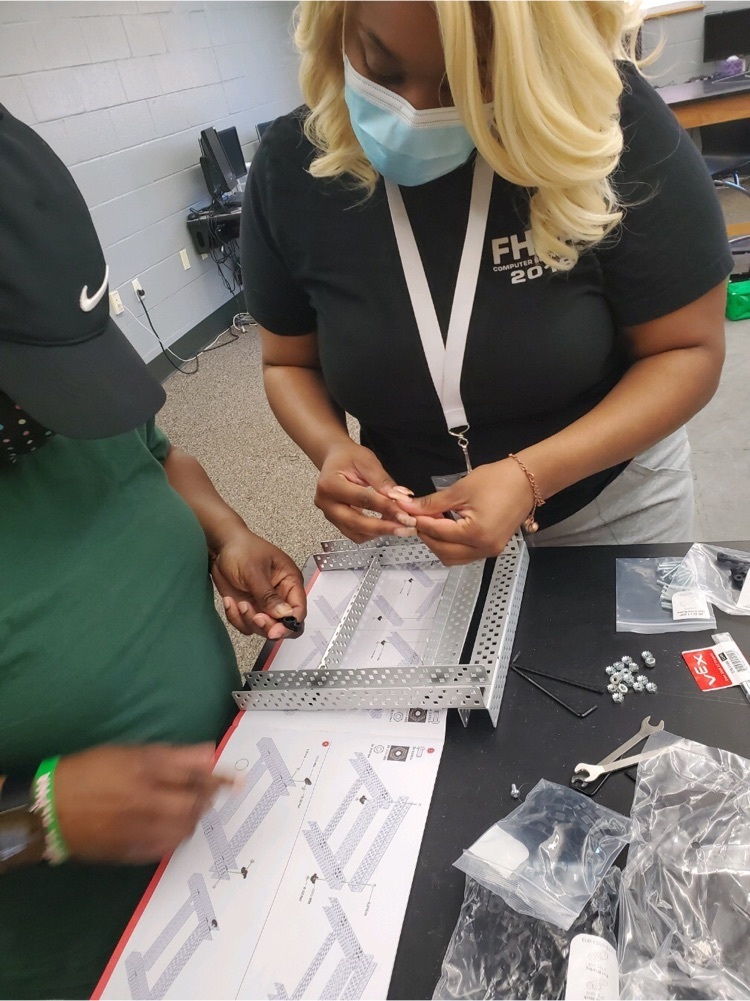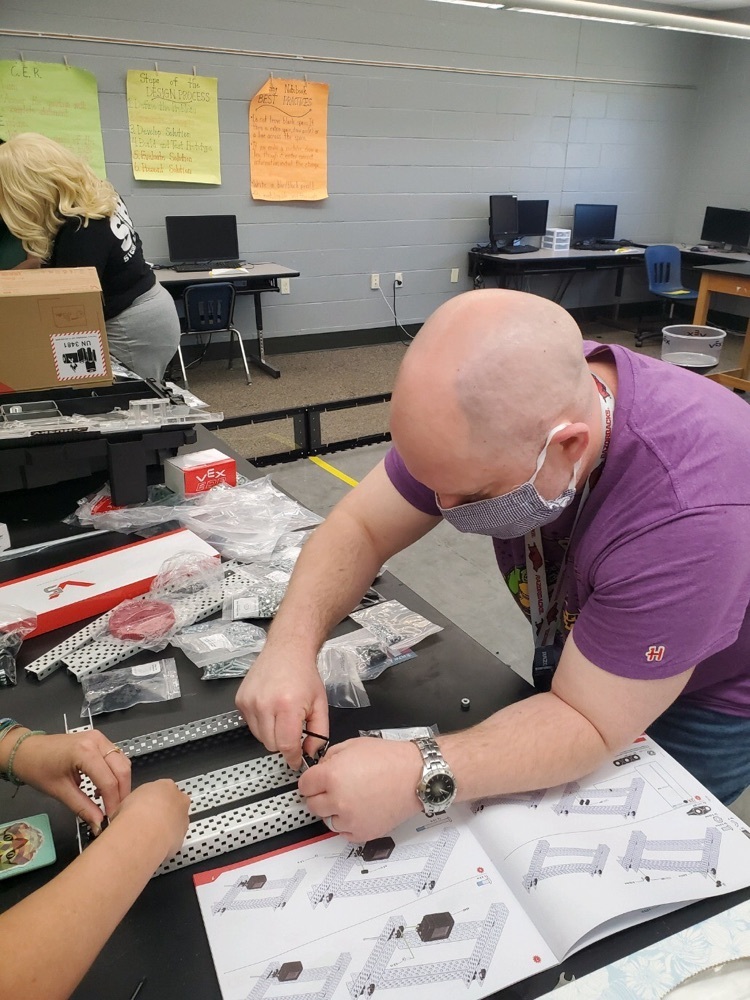 Good evening! We are excited to announce that there will be a mandatory virtual parent meeting on April 7th at 5 p.m. for 5th- 7th students interested in the 2021- 2022 FHSA MS Spirit Team. The Zoom link, Meeting ID, and Password will be posted by noon on April 7th.


Good Morning Eagle Family! 🦅💚💛🦅Please check our website for updates to our testing calendar. Testing will begin next week for in person middle school students. All virtual students must wear a school uniform when they report to campus for testing.
www.forestheightsstem.com

Today was a good day for FHSA robotics.