Greetings Eagle Family 🦅💛💚 We are looking forward to a great school year! School Supply Lists, Eagle Extravaganza and Middle School Orientation dates will be posted soon to our school website!! We can't wait for students and parents to tour our school, however, we want to structure these events to ensure the safety of our teachers, students, staff, and parents!!
For those who ordered a 20-21 yearbook, pick up for these will be July 28-July 30 from 11-1 each day. Any students who are unable to pick up their yearbooks at this time will receive their yearbooks the first day of school. Any former eighth graders who are unable to pick up their yearbooks at this time, your books will be mailed the following week. A second message will be sent out for those who are interested in purchasing any leftover books. Questions-email
Amber.harbin@lrsd.org

Let's get inspired to read if you haven't already this summer. Yashika, rising FHSA 7th Grader, has read over 300 books since the pandemic began last year. Way to go Yashika!
Good Afternoon Eagles, I hope everyone is having a great summer. Any 7th and 8th grade athletes that are planning to play football this upcoming season our first official day to begin practice will be August 2nd. We will begin football workouts and conditioning next week on July 20th from 7:30am-9:00am. Workouts and conditioning will be July 20th-22nd and July 26th-30th with practices beginning on August 2nd. All students should arrive with a copy of their current physical. If you have any questions please contact Coach Randle at
Brandon.randle@lrsd.org
Robotics Camp is off to a great start!!!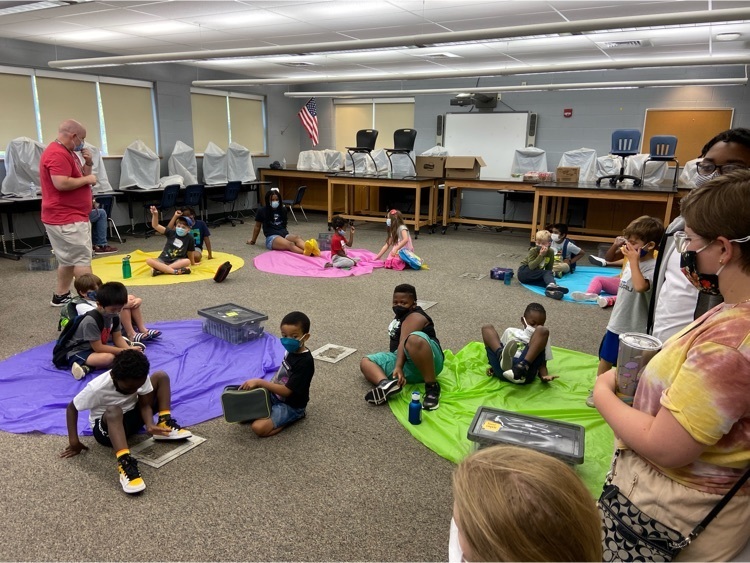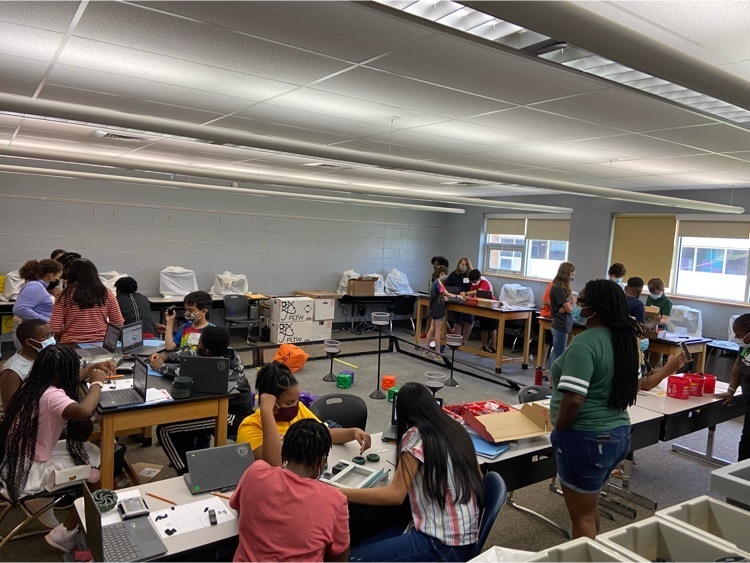 FREE COVID Vaccinations for anyone 12 and older, courtesy of Express Rx on Cantrell. First come, first serve from 5:30-7:15 at our STEM Block Party tonight at Hall STEAM Magnet!
Summer Music Showcase starts now:
https://youtu.be/spyXPjczqXE
STEM Block Party tonight at 5:30 Hall High. Free hotdogs, food trucks, and information!
Check us out on Fox 16! Awesome students up early representing FHSA! @michaelpoore1 @lrsd @amybcoop1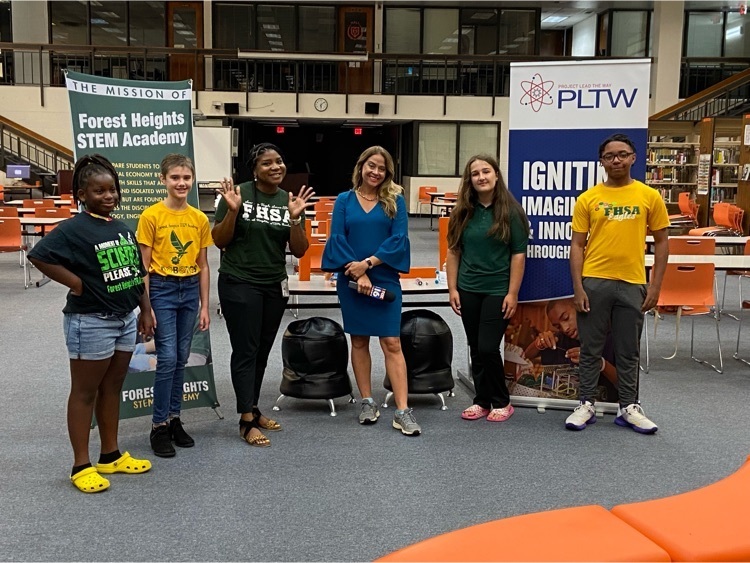 Good Evening Forest Heights STEM Academy Family: Tomorrow, Wednesday June 30th at 5:30 p.m. we will host our first STEAM Block Party. The Block Party will take place in the parking lot at Hall STEAM Magnet. Join us as we share information about our K-12 STEM Program. First Security Back will provide free hot dogs and other food trucks will be available. We hope to see you there!!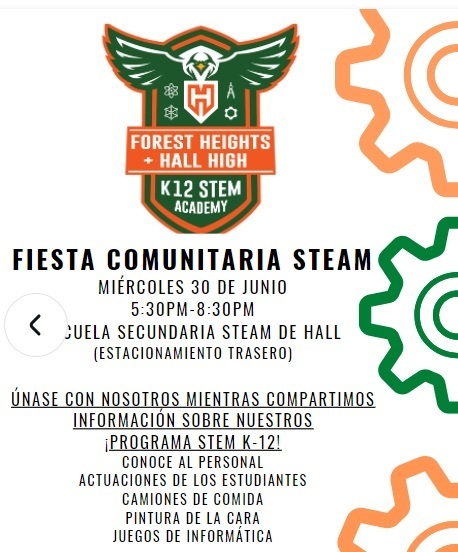 CORRECTION! The Summer School Musical Showcase will take place on Wednesday, July 30 at 2 pm. You can view via Facebook or the YouTube Live link: rtmp://a.rtmp.youtube.com/live2

Good Afternoon! Our Summer Academy will end on Wednesday, June 30th. We will have Tasty Treats Ice-cream on campus for students to purchase. Please view the flyer for additional information!
FHSA is proud to be recognized as a 20-21 @PLTWorg Distinguished Launch & Gateway School. We're committed to helping students own their education by increasing student access, engagement, and achievement through our PLTW programs. @fhstemacadptsa @amybcoop1 @michaelpoore1 @lrsd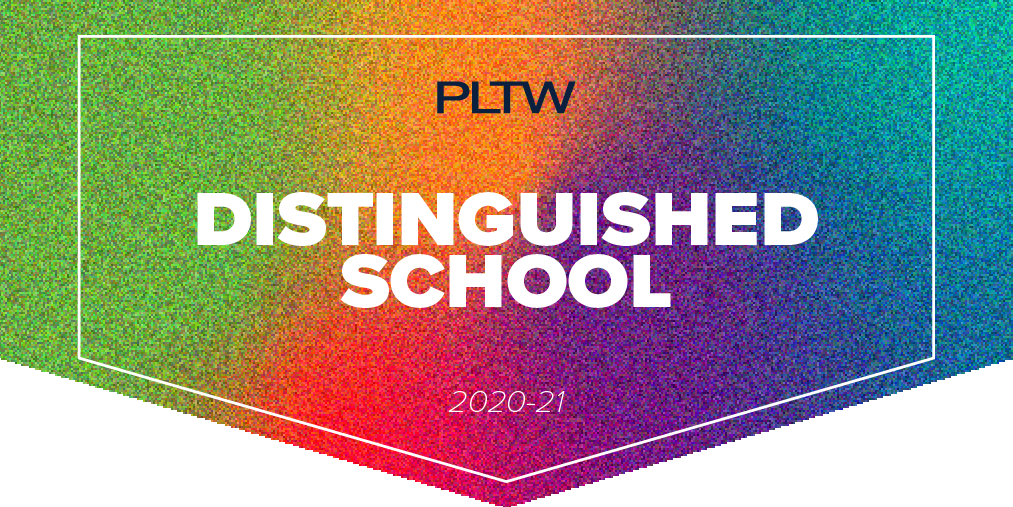 Saturday, June 26 from 11:00 a.m. - 1:00 pm., the Children's Library and Learning Center (4800 West 10th Street, Little Rock, AR 72204) will host a free event featuring "Mr. Keith's Kettlecorn" food truck. There will also be games, prizes, CALS swag bags, tours of the garden and greenhouse. White there , please complete the survey to help the library system!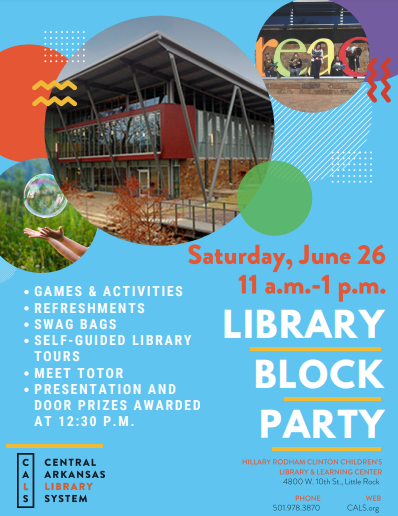 SAVE THE DATE: STEM Block Party. Wednesday, June 30 from 5:30-8:30. Back parking lot of Hall High. Join us as we share information about our K-12 STEM Program. Student performances, face painting, games food trucks, STEM vendors, and FREE hot dogs! We'll see you there!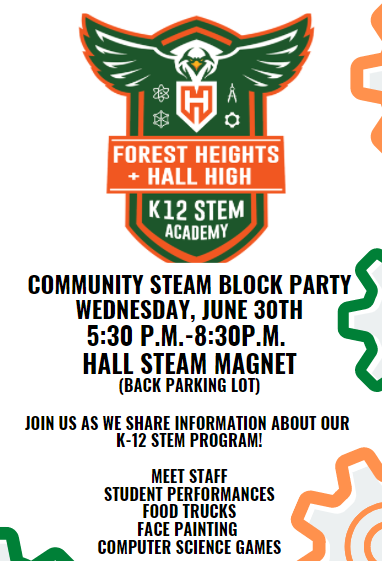 Schedule for LRSD middle school vaccine clinics. In order to reach every school where parents or staff registered for a vaccine we will follow this schedule: 9:00 – 9:45 - PHMS 9 vaccines 10:15 – 10:45 Dunbar – 12 vaccines 11:00 – 11:30 Cloverdale – 6 vaccines 2:00 – 3:30 Mann Middle 21 vaccines Mabelvale Middle – 17 vaccines PVMS – 32 vaccines FHStem Middle – 15 vaccines I'm requesting schools to publicize this schedule so parents know when to come. There will be extra vaccine for employees and parents. Please spread the word so we can continue making our schools safer from Covid by providing vaccines to ALL! Thanks, Margo

Good afternoon Eagle Family! We've had a great first day of Summer School! Just a reminder Elementary summer school students cannot arrive on campus until after 8:00 unless they have a Middle School student with them. Middle school students cannot arrive on campus until 7:30. Have a great day!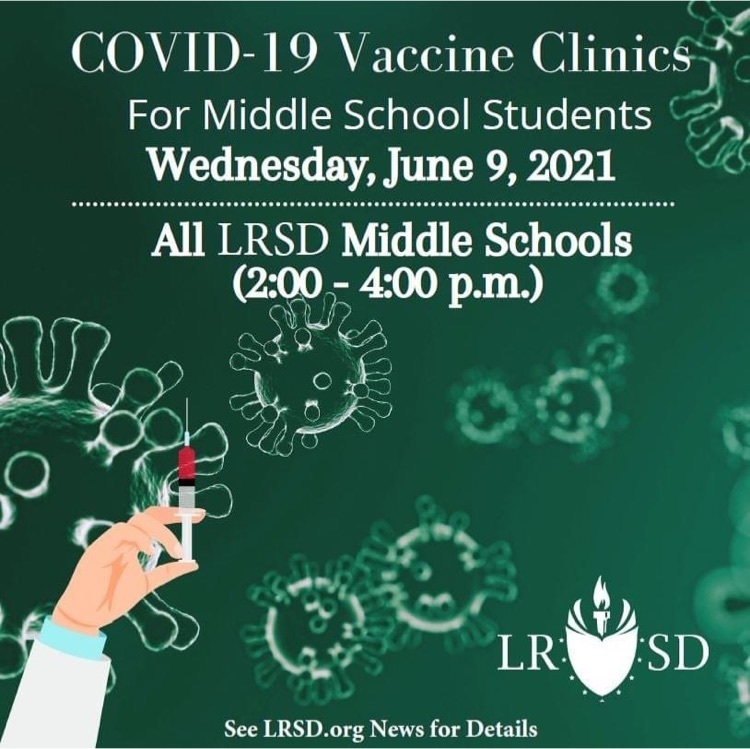 Hello Parents! Our FHSA Summer Program begins Monday, June 7th. Middle school students are scheduled for 8am to 3:30pm. Elementary students are scheduled for 8:30am to 3:30pm. If your elementary student is the sibling of a middle school student, both students may come to campus beginning at 7:30. Breakfast will be served starting at 7:30. Have a great weekend and we can't wait to see your student on Monday!
Attention Summer School Parents: The original bus list sent from the district is incorrect and being updated. If your child plans on taking a bus for summer school, please look for an updated schedule to be sent out soon. Thank you!